Don't you wish there was some way to keep Christmas with you throughout the year AND be sure you'll be ready for it when December rolls around? Well, guess what, there is! From the bottom of my heart, I can recommend the Chrisco Christmas hamper club...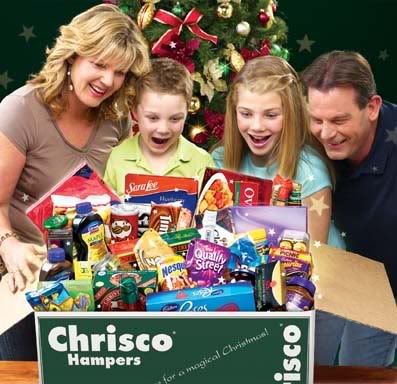 Chrisco hampers offer you all the food, accessories and gifts you could possibly need. With a little bit of planning, you can spend the year paying off supplies little by little. You will hardly notice that the money has gone each week, but come Christmas time, it will all add up to a wonderful hamper of Christmas goods being delievered to your house. The sooner you order and start paying, the smaller your weekly/fortnightly/mothly (whatever suits you best) payments will be.
The full range of hamper choices can be viewed
online
, or you can request a catalogue by calling 1800 144 662.
It may sound like a well-worn advertising slogan, but never a truer word was spoken than when they say you really can save for a magical Christmas with Chrisco.
I am not a troll, nor do I make any profit from posting this. I simply believe in this program, and think you will too if you give it a go. This is not spam.
Hi everyone, hope you had a great Christmas without too many cares. Sadly, sometimes Christmas is far from care-free, with the costs and stresses of getting some people down so much that you can almost forget that it's a time to celebrate. And when it takes that extra time to finally get into the spirit of it, it can be over in the blink of an eye, just as you're starting to enjoy it.
What are some Christmas activities that happen in your area? (what is that area?)
In your opinion, what's the best place to live in Queensland and why?
Have you heard of the Costume Museum in Lobethal? Have you been? It's a stunning collection of clothes all set out beautifully, from a lot of different eras. It's owned by an elderly lady who has been dedicated to the collection from a very early age. A really lovely museum, and a real asset for people who like history, for tourists going to Lobethal when it's not Christmas, and for teachers and students.
We went there yesterday, with the intention of just finding out when it was open (we've not been for a few years), and we were surprised how cheap it was- $3.50 for adults! We asked when it's open and the elderly lady there said that we'd better not take too long to get there again because they're being forced to close down in about 4 weeks time.
Apparently the Lobethal council wants the room, and the elderly lady who owns it is also having trouble with affording the insurance and the rent. They've also been pushed back to one corner of the building- they used to have the whole building. There are hundreds of outfits up in the attic space that they have no room for. And apparently they can only find four volunteers, and they're all elderly.
The clothes are going to be dispersed to their original owners and some sold to the town of Millicent- we're going to lose yet another historical thing in Adelaide- we don't have enough already.
Something about it didn't seem at all right- it's a really big asset to the Hills area, and to South Australia. Why has no one offered to sponsor them? Why is no one volunteering so these ladies aren't feeling so stressed? Apparently they make all their own coat hangers for goodness sakes, because they can't have any metal or plastic or dyed fabrics touching the clothes, and they do it all themselves. No wonder they're feeling overwhelmed. I'm also suspecting that they're having trouble advertising- it used to be in the paper but we'd not seen it advertised for years- I'm wondering if they just don't know how to advertise in a more modern way, how to ask for sponsorship or volunteers, because of their age and perhaps lack of technological know how, and that is adding to their issues with paying for their rent because they rely on just passing trade/gossip. And this business with the council- why the heck is the council not HELPING them, rather than kicking them out of the space? Honestly, I'm appalled.
I know it sounds like this tiny thing run by old ladies, but it used to be this absolutely gorgeous display, and looking in the door yesterday, it still is. Everything is nicely presented, it's not at all dodgy. It COULD be a real tourist attraction, and I feel that because they've apparently not been given help, it is not. The council is probably thinking 'eh, it doesn't bring in that much money' but that's because they've been pushed further and further back so their display is less impressive, and had no help with sponsorship or advertising. I feel like it's a bunch of old people who have been taken advantage of- what she was telling me just didn't seem right at all.
I'm recommending that you get up there within the next two weeks and check it out before it disappears.
I'm also begging for people to join me in making this more public- I want to write to the papers. It might be last minute but people still need to know that it's going away, and there's always a chance of a last minute save due to public protest or a generous sponsor. It really is something great that is being lost.
Want to join me in writing letters to the editor, or to the Lobethal Council? Know any places that might be interested in offering sponsorship to help offset rent and insurance fees? (Fashion shops perhaps?) Know anyone who might want to volunteer to look after the place for a day a month or something?
Right now I'm thinking some 'for shame!' filled letters to the editor and the Lobethal Council might do something. And post to your twitters and facebooks about it.
Do you think it doesn't sound right either?
Letters to the Editor Form
Possible Adelaide Hills Council contact form? I'm not sure if this is the right one.
Join me!
We're about to lose another cool attraction in the Adelaide area.


Do you do the same thing each year? Looking to start a tradition this year?

Every year Australia Day falls in the first week of my family's annual holidays up the coast, so I'm always next to a pool and near a beach. We invite any extended family that wants to come up to our unit for a barbie lunch, and we've recently discovered a Aussie Day trivia group nearby that orders pizza for dinner. Worst Australia Day was the night a possum ran into the mass of electricity boxes in front of our unit, fried itself and knocked out the power for six hours.
So, how's everyone planning to spend their Australia Day?
Current Mood:

excited
Australia has its only pandas- in Adelaide. :D They're on loan with us for 10 years, and of course we're hoping to breed them.

People coming to Australia
or Australians who get recipe tips from friends in other countries

Which foods can't you get that you are surprised about the unavailability?

For example my aunt moved to Scotland from Melbourne and called us in tears one day because it was the final straw for her that day that that Tescos didn't have slivered almonds.

I can't get any of this 'marshmallow fluff' or 'tinned mashed potatoes' here, that American people recommend to me. I'm not surprised I can't get it, it sounds weird. :P

I'd like to blog about it using your responses as a resource! Tell me which category you fit into too!
Australians who travel elsewhere
My boyfriend and I are going to the Yorke Peninsula late this week. Is Schoolies a big thing there or not? I think most go to Victor Harbour, but should we be prepared for heaps of students there anyway?
Bringing Him Back
is now answering questions about Australia! Check it out and feel free to ask your own question. comments gratefully received.